India's Nutraceutical Market Growth:
India's nutraceutical market is prepped to be a global leader at USD 4-5 billion. It is expected to grow approximately USD 18 billion by 2025.

The dietary supplements market in India is valued at USD 3924.44 million in 2020 and reports say that it will reach USD 10,198.57 million by 2026 that is 22% growth rate year on year.

The ongoing pandemic and the rising importance about preventive healthcare has led to the exponential growth of this sector.

Indian population has begun to believe in immunity-boosting supplements and has led to a significant shift in buying patterns and market behaviour. Vitamin capsules, chewable tablets and gummies are examples of the open-minded buying behaviour of consumers of healthcare products.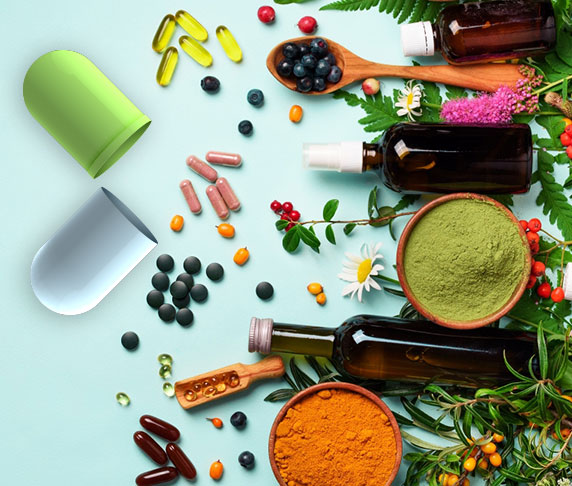 Rise of Preventative Healthcare
Preventive healthcare has become an important line of defence during the pandemic proving the nutraceuticals sector to be a strong economic partner to the people.

Even after the pandemic severity has minimized, nutraceuticals purchases are soaring. The second wave proved that the nutraceutical sector has built and will continue to grow its presence in the market. (Naresh, n.d.)

The global market for nutraceuticals is huge at approximately USD 117 billion, the Indian nutraceutical industry can step up to combat health issues in India amidst ongoing pandemic and significantly contribute to India's Gross Domestic Product (GDP).

The consumption of potential nutrients and micro-nutrients like Vitamin A, Vitamin D, Vitamin C, folate, selenium, zinc, etc. has substantially increased for better immunity.

According to a study by Nutrition and Dietary Supplements, many ingredients can be included in daily diet to possibly gain immunity or protection against coronavirus. Polyphenols, leguminous seeds containing plant protease inhibitors, as well as proteins, such as whey protein could be incorporated into the daily diet.
Industry Overview
Global Nutraceutical Market Stats
Currently, 90% of the total global nutraceutical market is captured by the USA, Japan and Europe. The global market should reach USD 336 billion by 2023 from USD 247 billion in 2019 at a compound annual growth rate (CAGR) of 8%.
Indian Nutraceutical Market Stats
After these global markets have attained maturity, the nutraceutical organizations are now shifting to developing economies in the Asia Pacific.

In 2017, the Indian market held only a 2% market share of the global nutraceutical market and its estimated valuation stands at around $5 billion as of 2019. It is expected to reach USD 11 billion by 2023, increasing at a CAGR of 21%.

By 2023, India is also expected to hold at least a 3.5% market share of the global market.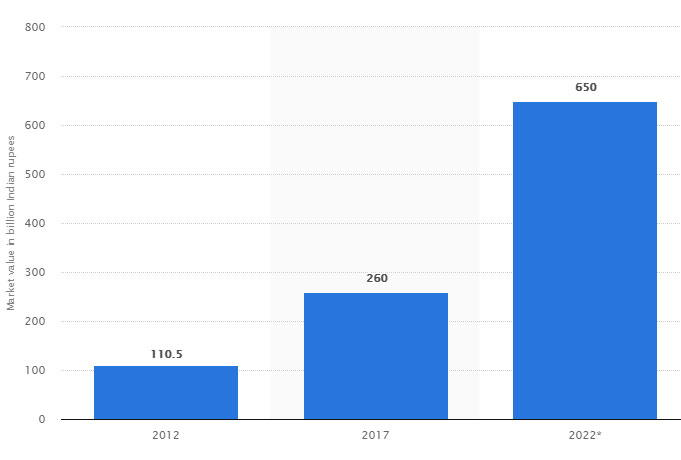 Pharmaceuticals export from India stood at USD 16.3 billion in FY20. As of November 2020, India exported pharmaceuticals worth USD 15.86 billion in FY21. Pharmaceutical exports stood at USD 16.28 billion in FY20 and USD 2.07 billion in October 2020.

Currently, the Indian market imports more than it exports; USD 1.5 billion in exports and importing the USD 2.7 billion worth of nutraceuticals. The market is expected to grow at a significant 22% CAGR by 2023.

The Indian nutraceuticals industry has been growing at 25% annually during the pandemic. The Foreign Direct Investment (FDI) has also increased from USD 131.4 million (FY12) to USD 584.7 million (FY19).
This is a great opportunity for food processing investors looking to expand their horizons.
https://foodprocessingindia.gov.in/
provides a great platform for investors to start investing in the growing nutraceuticals industry.
Current Trends and Future Predictions
The urban population across India have become health and fitness conscious like never before. This is providing a massive growth opportunity for Nutraceuticals Industry in India. Due to which the market is expected to witness significant growth.

Nutraceutical manufacturers and marketers have come up with new ways to make the consumer aware about the product, its benefits and role in preventative healthcare as well as medical treatment.

Industry players are also undertaking several initiatives on their own, including a renewed focus on improved quality standards of the product, enhanced transparency, and competitive pricing for innovations.

This will give a boost to Nutraceuticals in the health and wellness segment. The nutraceutical market already occupies 67% share beating the pharma dominated supplement market.
Measure to Attract Investors & Entrepreneurs
The Food Safety and Standards Authority of India (FSSAI) is about to establish regulations for nutraceuticals in India in line with international standards to attract new entrepreneurs to the nutraceutical field.

Once these regulations are implemented, it will pave a way for huge foreign investment, especially from new players, making the industry valuation double in a very short period.
It is quite evident that nutraceuticals will become widely accepted and a common part of Indian households soon!